Buttercross Farm Foods Ltd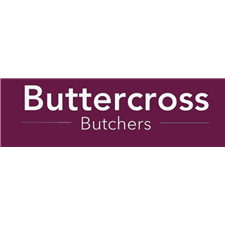 Traditionally a Buttercross was the point in a market town where farmers would bring their produce to sell to the local community. At Buttercross Farm Foods our aim has always been to resurrect those links and provide quality produce for those consumers who care about the provenance of their food.
Martyn and Helen Rowley who run Buttercross are committed to providing the best quality of meat and to exacting standards of high animal welfare.
With our origins in farming we know exactly what is required to give our meat its superior quality; welfare and good management are top of the list! That is why all Buttercross Pigs live in a natural outdoor and free-range environment here on the farm.
In addition to the traditional 'white' pigs, Buttercross is also proud to be home for a small herd of rare Large Black Pigs and their progeny. Visitors to the farm can see them relaxing in their paddock on the driveway to the shop. Large Black piglets are occassionally available for sale as breeding or finishing stock.
Combining traditional recipes and skills with our modern and purpose built facilities at Shiffords Grange Farm; the meat is transformed into an extensive range of tasty produce by our experienced and skilful team of butchers and staff.
Shop the range...
---
---
Visit Buttercross Farm Foods Ltd